Select the Right Door Knob for Your Home Decor
The door knob is essentially functional but it has an important stylistic role too. You know you've selected the right door hardware when you no longer notice it. A well-chosen door handle is visually in harmony with your unique home decor, perfectly integrated with the door and smoothly efficient in operation.
---
Custom-made Door Knob and Simple Mechanics of Door Hardware
A door knob, especially the heavy ones, contain a spring to bring the lever up to the correct level. These bronze handles are sand-cast. A bespoke door handle requires individual calculation, since its weight dictates the strength of spring needed to keep it from sagging.

To reduce their weight, lever handles can be hollow or contain cut-outs in the patinated metal. Custom-made handles, which can also be made from bronze-filled resin, are high-quality pieces – jewellery for the door.

Bespoke handles may suit important doors or cupboards, but there is no need to make the financial leap of using them for all doors. Sleek off-the-shelf alternatives include handles made of acrylic, transparent Lucite being possibly the most attractive.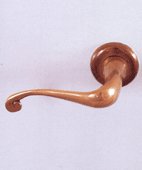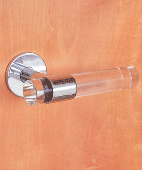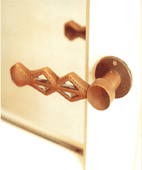 ---
Non-locking Door Knob
Interior, non-locking doors do not need escutcheons, and are all the better for it. A solid bronze lever handle for Antonio GaudÍ is even more sinuous and pure thanks to the fact that the plate behind the handle clips over the fixing plate, with no screws visible. Alternatively, he has also designed a finger-sized door pull which is both decorative and diminutive. The small handle is beautifully formed and sensuous to the touch. It can be used to pull and entire closet out of the wall.

Another non-locking, unique door handle to consider would be the William and Mary door rings in bronze. Using a square, rather than a round attachment as shown here, brings an interesting detail to an otherwise plain door.

You can also incorporate driftwood and vines as door handles. An example would be to use twisted sections of liana as door handles. This can be achieved by anchoring the liana to the glass door with stainless steel bolts. That way, you have a striking sculpture cum functional piece of furnishing.


---
Door Knob for the Sliding Door
For sliding doors, you may consider a stainless-steel recessed handle that lifts and turns 90 degrees to open and close the door. The visual effect is neat, and the mechanism smooth. When selecting a door hardware with complicated mechanism, be sure they are high-quality – a door can be pulled off its hinges. Another suggestion would be to use a slot, which is honest and immaculate.


---
Door Knob Maintenance
For door knobs original to the house, I'm of the view that well-designed, quality handles should be re-cycled and refurbished. Those made of brass can be lacquered to minimize tarnishing; if already tarnished, they can be cleaned in an acid bath. Alternatively, you can also look at re-plating – simply ask your contractor to handle this easy job or call up a car repair shop or metalworks facility. A good door knob lasts forever and gives distinction to your home decor




Click here to return to the top of door knob


---

Like to know more? Click on the following:



Living Room | Dining Room | Kitchen | Bathroom |



Space Organization | Home Lighting | Home Decor Fabric |