Smart and Practical Home Organization Tips
Organizing your home is a major, ongoing process. Get started with great home organization tips here:
1) First Things First – Prioritize your big storage decisions and the smaller details will fall into place. Look around you for things that are not in its place and tackle the problem first.
2) Identify Clutter – The key to successful home organization tips is to sort stuff according to frequency of use: never, last year, last week, yesterday. Things you use daily should be kept close at hand. If you haven't used something in recent memory – it's time you dump it.
3) Don't Sweat the Small Stuff – Tackle your clutter from big to small – seeing visible results quickly will help to spur your project on!
4) Take Inventory – Do this and bin ruthlessly to create a spotless, relaxed environment worthy of an uncluttered home to get you inspired.
5) Assess Your Stuff – Hire an expert to go through your collection, so you know what it's worth – this might help you make the decision to sell, bin or store the item.
6) Superfuture – If you tend to collect things, plan for future storage when you renovate. Don't pile things too tight in existing cabinets if you tend to accumulate stuff!
Scroll down below for some more home organization tips such as using existing space to create more storage, simple storage ideas, practical home display cum storage tips, guide to labeling creatively and great organization ideas to save you time.

---
Home Organization Tips – Use Existing Space
• Behind Closed Doors – Not enough room? Make use of dead space behind doors and hang up door organizers, bags or even memo boards to organize your accessories.
• Space on the Side – The sides of your furniture are underused, unobtrusive storage areas – place an organizing board there to file bills, notes and other material before you tackle them.
• Handling It Well – Cabinet door handles make great alternative hooks for dishcloths in the kitchen or bags in the wardrobe. Get a bunch to match your original handles for a coordinated but wonderfully eclectic style.
• The Write Stuff – Glass cabinet doors and walls can make a useful memo board for the forgetful; simply write on them with non-permanent markers. You can use the shower door, kitchen cabinets, or even a framed picture as a memo board – you can't miss it!

---
Home Organization Tips – Simple Storage Ideas
• Collect Containers – You can never have too any of them. Make good use of beautiful vintage jars, souvenir mugs and other nostalgic stuff you can't bear to throw away, instead of stashing them away in the cupboard.
• Think Out of the Box – Some jewelry boxes make good desk organizers too – ring slots are just right for holding important cards, while the pockets can be used for stationery items.
• Food Saver – If you're storing perishables in containers, take the time to label them with their expiry date before you forget. Chalk the dates down or just wrap them around the jar with an elastic band for an instant fix. Find out more on how you can maximize kitchen space.
• Bento-ed Over – The key to organizing small items like craft materials is to find storage that is wide (so you can see everything at a glance); opens fully and isn't too deep (so you don't have to dig for items); and is stackable (so you can pile them in the same corner). The Japanese bento lunch box fits the bill perfectly.
• Rope in Your Kids – Get your young ones into the habit of organizing their stuff with fun storage ideas. For examples of such home organization tips, get them to store all their colored toys in boxes of the same color, or get them to arrange their books in alphabetical order on the shelves!
• Wardrobe Warriors – Break down a large wardrobe into manageable, assessable pockets of space. Customize the inside of your wardrobe with space-saving garment racks and handy canvas.
• Scrapbook Page – Instead of stashing photographs and mementos in drawers around the house make a scrapbook with them.
You may get more home storage ideas here or or explore kitchen cabinet storage ideas.



---
Home Organization Tips – Display cum Storage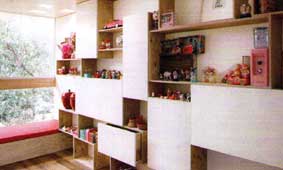 • Display Confidence – Having lots of cupboards can tempt you to stash books and accessories without organizing them – avoid that by storing them in the open. They will add personal style to your decor too. Place your priced collections on open shelves or a sideboard. The child's room above illustrates this clearly with cabinets that display favourite toys with cleverly concealed desks!
• Mini Magnetic Board – If you don't have the space for a full-sized memo board at your desk, try using metal bookends – they're magnetic, stand on their own and don't take up space.
• Stack of Style – Stackable wire racks are perfect for breaking up a tall shelf into manageable slots. Crockery and pots need no longer be piled dangerously high. And you won't have to take everything out to reach the bottom of the pile either.
• Sit Them Straight – Tension curtain rods also make perfect shelf dividers in your crockery cupboard – they're adjustable and allow you to keep or retrieve items easily.
• Easy Jewelry – The best way to store jewelry like necklaces and earrings is to hag them up, so they don't tangle or damage each other. Plus, you can view them all at a glance. Make your precious rocks look even more covetable.
---
Home Organization Tips – Labeling Ideas
• Black Magic – A lick of blackboard paint is all it takes to turn any surface into an organizer – get creative and paint your drawers, doors, walls and even storage jars.
• Label Queen – Don't forget to label while sorting out things to store. This saves time later. Get stylish tags from craft and scrapbook stores.
---
Home Organization Tips – Time-saving Ideas
• Make Shopping Lists – List the usual groceries or household items that you buy and print several copies. Place them in prominent places. When the item runs out, simply circle it – and your next shopping list is done before it's forgotten.
• Be Obvious – Make a habit of placing your keys somewhere visible, so you will not have to hunt for them just before leaving the house for an important appointment. Magnetic key rings are great for this purpose.
• Keep Things Where You Need Them – Sew spare buttons on shirts, keep toilet rolls in the bathroom and places by the dining table to save time searching for them.
• Keep it Bright – It's hard to organize or find stuff in a dark area, so make sure you have sufficient lighting in important storage spaces such as wardrobes. A simple, battery operated light from DIY stores will do the trick, without needing much effort at installation.
---

Almost there....Your home may now be free of clutter with these home organization tips but the hardest part isn't over yet. Think carefully before you buy anything or it will all pile up again! Explore the following pages for solutions to maximize space:
Home storage ideas - for practical home storage and space-saving guide
Maximize kitchen space - for useful solutions to a space-efficient contemporary kitchen
Kitchen cabinet storage ideas - for ideas on creating more storage for the kitchen cabinet and drawers
Kitchen organization tips - for kitchen organization tips and storage ideas for kitchen utensils and appliances
Space organization - for tips and advice on organization and creating your home decor space

Click on highlighted text to return to the top of home organization tips.
---

Like to know more? Click on the following:



Living Room | Dining Room | Kitchen | Bathroom |



Space Organization | Home Lighting | Home Decor Fabric |