Simple Staircase Replacement Guide
The staircase is an important design feature of a house so here's an easy staircase replacement guide for the contemporary interior.
---
Cost and Regulation Consideration
Replacing a less-than-lovely staircase for something more aesthetically pleasing can improve an interior dramatically by making better use of space and reducing the substance of the staircase to allow more light to pass through. However, the project will be expensive and disruptive, and should not be undertaken without professional help and a clear set of objectives. I'd suggest that heritage building owners check with authorities if special permission is needed to carry out major changes of this kind. This'll allow anyone thinking of installing a new staircase to be aware of any regulations that might stipulate requirements for the pitch of the stairs, the amount of headroom, and the design of the banisters.
---
Staircase Replacement Guide: Light and Space
If your main aim is to reduce the amount of space taken up by the staircase, a spiral design is a possible solution, but bear in mind that it will be difficult to carry large pieces of furniture up and down it, and you will lose much usable under stairs space.
Custom-made spirals are often dramatically sculptural and would have a strong presence in an entrance hall, but those bought as standard ready made are perhaps better suited for linking upper stories.
If you'd like to make better use of the surrounding space in the hall or landing, the staircase may be re-positioned to facilitate this.
If it is important to create a more contemporary look and a sense of space at the center of your home, a staircase with an open construction, flooded with natural light, is the answer.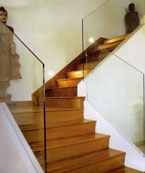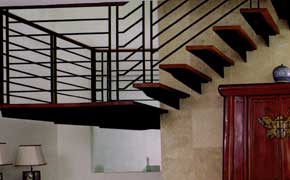 One example for the staircase replacement guide would be a custom-made staircase in conventional design constructed from an unconventional material - glass. It gives the wonderful effect of alight well cutting through all levels of the house as well as create the effect of floating spaces.
Taking a cue from the picture above right, you may replace the staircase railings with frameless glass panels, opening up the space which was originally tight and dark.
Another solution is to paint the walls bright white or glam it up with pearlescent or gloss paint. For the latter, make sure the walls are smotth and flat as gloss paint will emphasise every bump in the surface.
Thirdly, try 'borrowing' light from the surrounding. If there's a window at the top of the stairs, mount a big tall mirror on the opposite side to reflect in sunlight and hopefully, a good view too.
---

You may also want to take a look at:
---
Click on highlighted text to return to the top of staircase replacement guide
---
Like to know more? Click on the following:

Door | Flooring | Walls |


Living Room | Dining Room | Bedroom | Kitchen | Bathroom |


Space Organization | Home Lighting | Home Decor Fabric |