Choosing a Door
A door is vital, both functionally and aesthetically since it integrates the interior and exterior surroundings and creates the first impression of the space you're entering. Thus, it is important to pick the right size, followed by style and material for your unique home decor.


---
Size and Proportion
The entrance's size is the first thing you notice, and this should be decided for both practical and aesthetic reasons. For example, in a beach house it should be small to conserve heat.
A standard single-leaf door panel typically ranges in width between 35 - 43 inches (0.9 - 1.1 meters), while the height is usually 83 inches. Main entrances may be wider and taller, while bathroom or store room entrances may be narrower. The typical thickness is usually 1.5 inches (0.4 meters), but this can vary. Styles can be single leaf, one-and-half leaf or double leaf. Multiple panels are also possible, especially in the case of slide-and-fold styles.
As a guide, the most important and public rooms will have the largest, heaviest and most decorative styles. The picture below shows massive wooden entrances accented by large round medallions and installed in the original doorway to reveal an elegant living room. Detail of the medallion on the lower right picture.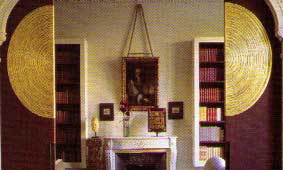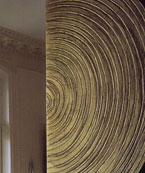 The entrance on the upper floors tend to be much simpler as they are less often seen by guests. Comparatively, the styles for the living room are more impressive in size, style and quality than in other rooms. This is generally true, though not necessary practiced in modern home decor.
---
Fire Rating
It is also useful to know whether the entrance has any fire rating. Fire-rated entrance compartmentalize fire at its origin to buy time for occupants to evacuate to safety, or for extinguishing the fire. Fire ratings, referring to the length of time that entrances can withstand fire, start from half an hour. Fire entrances can be made of timber, flass or metal, and must be certified by a recognized organization.
---
Hinges
Most doors are hung on hinges and open in, but this can be reversed to give more usable space inside the room, provided there is enough space outside for it to open safely.
Timber and metal swing styles are attached to the frame using hinges. The size and number used will depend on the size and weight of the door, but a standard-sized door typically requires four hinges.
For frameless glass swing styles, hinges are replaced with patch fittings, which are used at the outer top and bottom corners. For homeowners who do not want exposed hinges at the side, concealed hinges can be used. But a more popular alternative is to use floor pivots or floor springs,which are suitable for timber, glass and metal entrances. These are essentially systems whereby the door pivots about a vertical spindle at the top and bottom, so all you see is a discreet metal cover plate flushed into the entrance frame or the floor.
---
Creating Space
Styles that divide rooms are traditionally hinged in pairs. If space is limited, bi-fold or sliding styles may be a more practical option. The sliding types come into their own as room dividers - when they are closed, they offer privacy and bring intimacy, opened up, the space is expanded for larger gatherings. However, one disadvantage is that blank wall space is needed for sliding styles to open. One solution is to construct a false wall in front of the original one so the opening entrance slides between the two and is completely concealed when open.

Upon choosing the right style and material, you may also want to look at details like the knob which lends a finishing touch to your unique home decor.


---

You may also want to take a look at:
Contemporary Styles and Materials

---

Like to know more? Click on the following:



Living Room | Dining Room | Bedroom | Kitchen | Bathroom |



Space Organization | Home Lighting | Home Decor Fabric |