Hard Flooring Options for a Unique Home Decor
The hard flooring selections are longer than before; from the humble brick, mosaic, terracotta, and ceramic to stately marble, slate, and granite.

If you're already considering this type of flooring, you will already have an idea of the look you want. Other than style, you need to consider factors like flooring materials and cost, which will be discussed here.




---
Characteristics of Hard Flooring Materials
You need to be aware of the characteristics of different hard flooring materials and be realistic about how your intended floor will perform in the decor you have in mind. Here's a quick list of what's popular:

Be it polished or soft matt finish, a stone floor imparts a certain character that gets more charming as it ages. The beauty of stone lies in the varied patterns, a result of natural rock formation, and the sophistication it lends to any home.

Stone as hard flooring is not easily affected by water and is therefore a good material for floors. However, one of its disadvantages is that it is hard and unforgivable – anything dropped on it will most likely break. It is also a 'noisy' material since it does not absorb sound.

Granite, marble and slate are the most highly favored stone floors. Of the three, granite is the toughest. Here's some more information…

Marble and granite are hardwearing with an expensive look and price so they are usually used in areas where their sophisticated look are appreciated. Because of its toughness, granite is difficult to cut and this contributes to its cost. Marble is solidified limestone and is therefore softer and rather porous compared to granite. Due to its porosity, it can be marked by acid, requires professional refinishing. It comes either polished or honed:
Polished marble is glossy and emphasizes the natural color and markings of the stone. It should be used as flooring in low-traffic areas.

Honed marble has a matte finish, is more slip resistant and less likely to reveal scratches. It is ideal as flooring in high-traffic areas.
---

Slate is more affordable hard flooring and can be used to great effect in the kitchen, halls and staircases. It's usually used in interiors with a masculine character. All hard stones may be polished, but the higher the gloss, the more slippery the surface, especially when wet.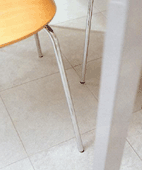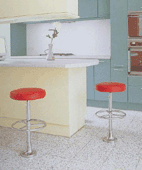 ---

Terrazzo and polished concrete are durable hard flooring for most areas of the home. Installing them is best done during major refurbishment as it is specialized work. Terrazzo tiles, which are thinner and lighter than in-situ terrazzo, can be laid with less disruption and give similar effect.
The picture below illustrates a strong decorative statement in the living room. It forms the basis of a monochromatic contemporary color scheme in a light-filled and relaxing space. It has also been used in slabs for the treads on the staircase (not shown).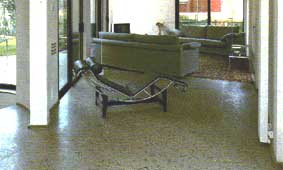 ---

Concrete provokes extreme reactions as a contemporary hard flooring; hard, brutal, raw and defiant are some. Yet, this material has the ability to look soft and matt as suede. As a setting for strong modern furnishing in chrome and leather, concrete has unbeatable character.
It can be treated in a variety of ways to alter its texture and color. Patterns can be created by scoring or by embedding stones in the floor while it is still wet, and the final floor sealed and polished. To add color but preserve the soft-looking texture, pigments can be added to the basic mix; alternatively, it can be painted with special floor paint. For the sleekest and most sophisticated, cover with acrylic or epoxy resin toppings. The finish is exceptionally glossy and looks almost liquid.
For the example below, the concrete floor has been painted a deep blue with specialist concrete gloss paint. Tough polyurethane finish varnish wil render the floor even shinier as well as protect the surface from scratches and scuffs.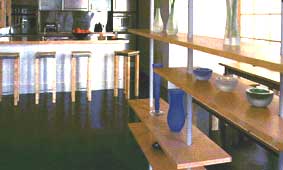 ---

Limestone and sandstone are softer stones by comparison. They come in neutral colors that are easy to live with. However, they are porous and needs to be sealed to prevent staining.


---

Tiles vary in character and performance according to their type and quality. For example, bricks, terracotta and quarry tiles are all hardwearing, relatively affordable, easy to maintain, and seem to improve in appearance with age and use. Glazed tiles can be spectacularly colorful, but not all are tough enough to provide a durable floor surface; you need to confirm before purchasing. Less robust tiles can be used in bathrooms where they will not suffer excessive wear, but wall tiles should not be used on the floor.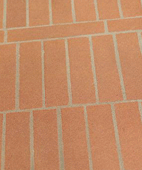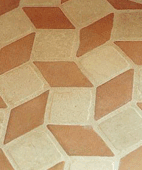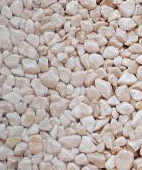 ---

Metal has become another hard flooring material to experience the shock of the new. Aluminium or galvanized steel sheets are normally used and comes textured with relief pattern to make a non-slip surface. If you prefer flat metal sheets (below left), it will be very slippery when wet and should only be used in dry areas, or for decorative effect in combination with another flooring material, wood for example.
For the enthusiastic modernists, metal flooring with industrial style utility is irresistable. They are usually glued or screwed in place on a level sub-floor. Appropriate sound proofing is also needed as it can be noisy.
The example below right shows textured metal flooring in the kitchen. The hard suface complements the steel appliances and contrasts pleasingly well with the wood furnishings.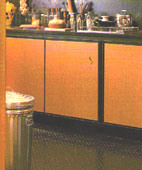 ---

Glass flooring is stunning, creates a feeling of space and allows light to pass through different parts of a building. It is made from layers of annealed float glass laminated together for strength. The surface is then sandblasted to render it slip resistant. Glass floors should always be professionally specified and installed.
I'd recommend using glass flooring on the mezzanine or staircases for a dramatic feel. The example below left shows an ingenious mix of sandblasted glass and wood flooring to create a rug-like effect against the metal mesh staircase.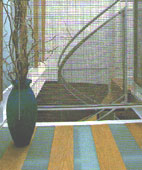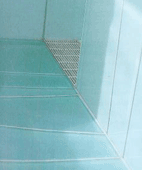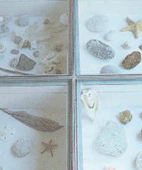 ---
Maintenance of Hard Flooring
Maintaining stone is relatively easy. When the stone is first quarried, it is rather soft but will then oxidize, become hard and less porous when constantly exposed to air. Most stone floors are treated with a silicon-base impregnator to reduce porosity. Regular washing or mopping with a pH neutral floor cleaner will clean and deed the stone. Stone floors will settle after two years as oxidizing and constant walking over it will help harden the surface and make it more resistant to stains. From this point forth, the stone becomes self-maintaining, requiring little care and attention.

Clean ceramic tiles like you would your plate and clay pots. After all, they are made from the same materials. This is no need to invest in expensive cleaning detergents where a good dish washing liquid will suffice. To keep your grouting looking white, scrub it with a toothbrush and some smokers' toothpaste. Alternatively, you can apply hydrogen peroxide for stubborn stains


---

Take a look at home decor flooring guide for other flooring selections. Alternatively, consider the following:

Wood flooring



Soft flooring

Carpet and rugs

Click here to return to the top of hard flooring


---
Like to know more? Click on the following:



Living Room | Dining Room | Kitchen | Bathroom |



Space Organization | Home Lighting | Home Decor Fabric |