Top Kitchen Lighting Tips for Safety, Function and Design
Here're some essential kitchen lighting tips to allow you to cook safely while creating a comfortable, unique environment:

Kitchen Lighting Tips 1: Ambient Light for Overall Illumination
Bounce light around the room with wall washers – adjustable canisters that are recessed into the ceiling.

Fill the space with indirect lighting by running a strip of fixture around cabinet tops or behind an architectural one.




Hang a pendant above the kitchen table to illuminate the dining area (but make sure it is high enough to keep sight lines clear).

Don't add to the heat in the kitchen. Use mostly fluorescent lighting instead of halogen ones. Also, fluorescent lights, with their covers, are easier to maintain.
Kitchen Lighting Tips 2: Task Light at Specific Work Areas for Safety and Efficiency
Take into account all activity areas and their size. Fit the right lighting to the size of your kitchen; small kitchens may require only a central ceiling fixture and task lighting tucked under a cabinet. More elaborate kitchens will demand a blend of general, task and accent lighting.

The kitchen needs to be well lit for safety reasons, especially the washing and cutting areas.

Eliminate shadows by lighting work surfaces from more than one direction. For example, a countertop with undercabinet fixture and overhead light will be instantly brightened. Overhanging cabinets cast shadows on countertop surfaces, so install lighting under cabinet bottoms, along the top of the splash back. If there are no cabinets, fix spotlights to the ceiling that are directed at the work surface.
Kitchen Lighting Tips 3: Accent Light for Specific Features in the Kitchen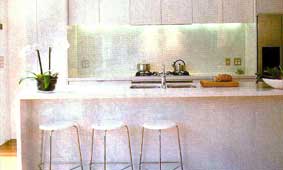 Spotlight a tile backsplash or an architectural feature with track lighting that has adjustable fixtures.

Kitchen cabinets can be accentuated by placing low-voltage mini-lights over, under, or inside cabinets. Using low-voltage tungsten halogen bulbs will enhance the sparkle of glassware while providing illumination.

Use accent light sparingly as too much can cause sensory overload.
Kitchen Lighting Tips 4: Decorative Light Add Visual Interest to the Kitchen
Select styles that tie into the architecture of the house.

Hang the fixtures in a prominent location and keep them on dimmer switches to adjust light levels.

Choose frosted or opaque shades for pendant lights that hang in front of windows to prevent night time reflections.

With an attractive kitchen island, consider enhancing the design by using a nice pendant lamp or down lights above it.
Kitchen Lighting Tips 5: Natural Light to Expand Space and Elevate Mood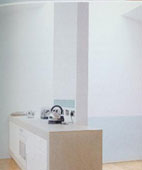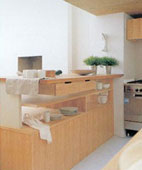 Position windows near task centers to provide relief from the monotony of chores.

Install a skylight or light pipe (a small, reflective tube that transport sunlight through a roof or an attic) over an island or counter to supplement task lighting.

Control light levels (and heat build up) by adding manual or motorized shades to skylights. Also, install a few recessed fixtures around the rim of the skylight to keep it from becoming a back hole at night.

Maximize sunlight with reflective surfaces. A white wall and pale wood cabinets reflect light better than darker, more saturated colors. A sleek metallic backsplash is also an effective reflector.
---

You can get more information about the kitchen with renovation guide as well as tips on selecting contemporary kitchen furniture such as:
Kitchen cabinets with advice on cabinet types and models available.
Kitchen countertops with tips on selecting countertops as well as guide on countertop materials to choose from.


---

Here're some more home lighting tips for the other rooms:

Living room lighting tips

Dining room lighting tips

Bedroom lighting tips

Bathroom lighting tips

Click here to return to the top of kitchen lighting tips


---

Like to know more? Click on the following:



Living Room | Dining Room | Bedroom | Kitchen | Bathroom |



Space Organization | Home Lighting | Home Decor Fabric |