Staircase by Laura Alvarez Architecture – Interior Showcase
Here's a beautiful staircase by Laura Alvarez Architecture. It's designed to look like it's floating in the middle of the apartment.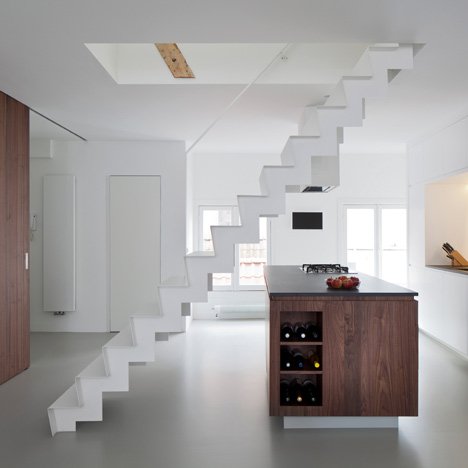 The steps are not at right angle, which adds to the quirkiness.



Made of steel, this staircase by Laura Alvarez Architecture acts as a divider of sorts between the kitchen and lounge area for an open-plan concept.




Notice how the designers kept the space white, down to the cabinets?

This is punctuated by a kitchen island in nut wood and the effect is mirrored in the coffee table as well as dining table.
The rest of the furnishing is kept in muted tones of gray, including the epoxy flooring.


About The Interior

This is a two-floor apartment in Amsterdam which has been ear-marked as a national monument.
Prior to the renovation, the rooms were dark and felt claustrophobic.
To transform the apartment and introduce a contemporary sensibility to an old building, the interior is conceived as a continous space.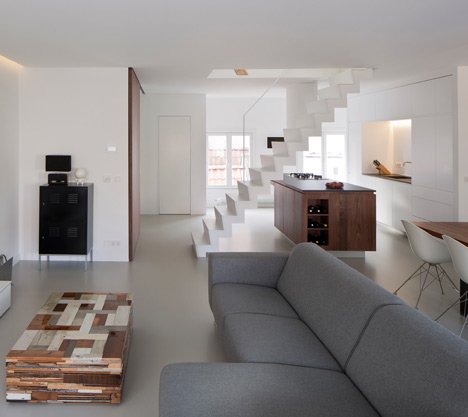 This allows various activities to take place without the need for rooms.



To bring natural light into the interior, I like how satin-glass walls were introduced in the upper floors. This allows light to flow into the bathroom as well as the lower floors.
Lighting has been carefully chosen to accentuate the space.
The staircase by Laura Alavarez Architect leads to the upper floor where there's a guest room and master bedroom.
Photo credit: Ewout Huibers
---
Living Room | Dining Room | Bedroom | Kitchen | Bathroom |



Space Organization | Home Lighting | Home Decor Fabric |