Blue Home Interior Inspiration
A blue home interior works well for most people since blue is particularly effective in spaces that lend themselves to meditation and calmness or cleansing.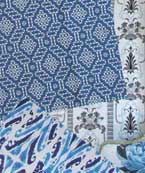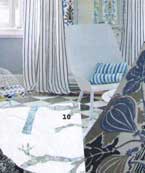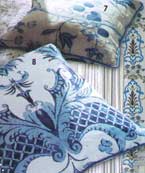 Whatever the shade of blue, spending time in a space bathed in this color allows you to reconnect with your inner self and leaves you in a state of pure tranquility.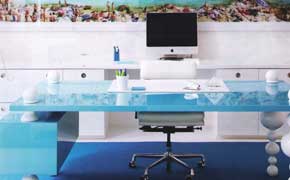 Even touches of blue in an otherwise non-blue room are enough to add a sense of calm;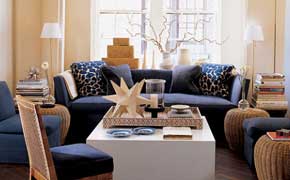 adding blue towels and bathrobes to a bathroom conjures up images of a beach holiday.


Before Using Blue, Consider This.....
Blue is a color that may leave you feeling well, blue. Pablo Picasso's 'blue period' was symbolic of a period of self-indulgence and self-pity.
If you stick with the brighter interpretations instead of the icy hues, you are sure to keep your space upbeat.
For rooms which are flooded by daylight and sunshine, use cooler shades of blue since it counteracts with the natural warmth.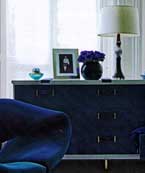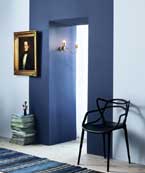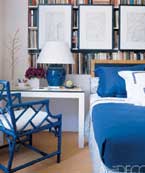 Blue Works With.....
Blue and white is a fresh combination,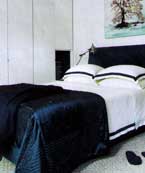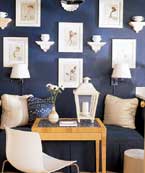 blue and green will put you in a meditative mood while the mix of blue and red injects spirit.



Most blues work well together in a mix. The depth of dark blue is offset by the brightness of turquoise.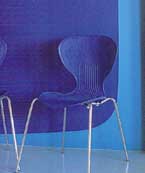 Grey blues combine with pretty, light shades and bold cobalt blues work well with powdery hues.
Unlike the more dominant shades of red, orange and even purple, an all blue home interior can be quite pleasant.
Blue also work with textural tones of oatmeal and natural linen for a more sophisticated twist.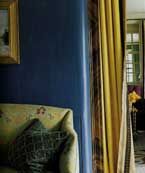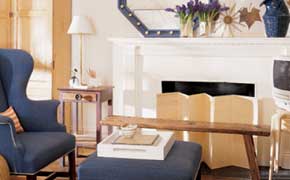 For all-blue rooms, I find that infusing fiery shades of red and orange as details; even if just a hint of it, will spice up blue's laidback charm.




It's also happy with its cousins; purple and green as well as bluer shades of pink. Incidentally, mixing purple and green gives blue.
Which Room?
It's a versatile color so it's great in the kitchen, playroom, bedroom, lounge room or in the bathroom.
As mentioned earlier, it adds a sense of calm and cleanliness to the space.
---
You may also want to take a look at:
Wall decor with paint
Click on text to return to the top of blue home interior
---

Like to know more? Click on the following:



Living Room | Dining Room | Bedroom | Kitchen | Bathroom |



Space Organization | Home Lighting | Home Decor Fabric |