Tips on Building Custom Storage
When you've done planning and designing your home's storage, here's a guide to building custom storage that you can refer to.



Recognize there are several routes open to you and the first option is to simply hire someone to build it for you. This is effective if it's a small-scale project like building shelves for the pantry. There's also the added benefit that you can specify the finishing, detail and materials you like. It's a good practice to check the portfolio of the craftsman before hiring him so as to ensure his workmanship will be an acceptable standard.
For the picture below (left), the workman was able to build a curved kitchen cabinet, complete with maximum storage beneath a very awkward space.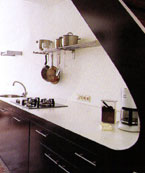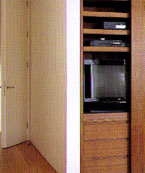 Good planning is also essential to ensure that the end result functions properly e.g. the shelving is of the correct height, the doors open the right way.
In the example above (right), the entertainment equipment is housed in a custom-made unit complete with shelves of different heights.
Alternative Options for Building Custom Storage
If you're not too keen to deal with the contractor yourself, there're other choices; purchase available fitted storage systems from the stores. These range from units specifically designed for kitchens and bathrooms, to fitted wardrobes, shelving systems etc. Most large retailers or suppliers have in-house design services to help come up with a result that suits your needs, using existing space. These suppliers also provide their own fitting service which may include installment payments or similar services to spread your cost over a certain period of time. If you've got deep pockets, there are some companies which will adapt fitted systems to your specifications for a truly bespoke interior.
The last option is to hire a designer or an architect. This is good for those who need ample storage without compromising on the space or those who simply want to do up an entire room. Designers and architects are skilled at coming up with spatial solutions and may devise a scheme that improves the way the way our homes look and function overall. Unlike major retailers, they don't have product ranges to sell and may be able to save you money while furnishing you with original ideas and results with respect to design and materials.



---
You may also want to take a look at:
---
Click on highlighted text to return to the top of building custom storage