Kitchen Countertops Selection Guide
Your kitchen countertops have to provide high-performance and offer good looks. Ideally, it should be durable, hygienic, quiet, stain resistant, and heat-proof. However, no one material displays all these qualities. Thus, a compromise must be reached and appearance is the main deciding factor.
Choices for countertop materials are many, and I've updated the following to include some examples for contemporary kitchen design with respective pros and cons. Where possible, I've included pictures of kitchen countertops of the countertop materials:
1) Ceramic – A countertop material that can be installed personally. Pros: Heat-proof, easy to clean, available in wide range of price, color, texture, and design. Cons: Easy chipping or cracking, uneven surface top, hard to clean grout lines.


2) Composite - Also known as solid surface, it is a mixture of quartz, resin binders and pigments. Brands like Avonite, Corian, and Swanstone would be happy to custom make kitchen countertops. Pros: Durable, stain-proof, seamless, available in choice of colors. Cons: not heat- and stain-proof.
3) Concrete - Concrete affords a choice of unique shapes as it can be cast right in your kitchen. Cracking is common and the solution is to treat the surface with wax or sealant but recent developments include new high-tech laminated concrete called Mass1 that's silkier, more stain-resistant and versatile. It's just as hard-wearing and heat-proof, but lighter and comes in chic but subtle colors Pros: heat-proof, scratch-proof, allows countertop customization (e.g. color-tinting). Cons: requires wax or sealant treatment.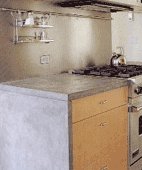 The concrete kitchen countertop forms a continuous hard shell around the stained and pickled white ash veneer cabinets.
4) Corian - This silky-smooth, solid surface material can be sculpted to any shape, so inks, counters and splashbacks can flow seamlessly into each other to create contemporary kitchen countertops. A mix of acrylic, resin and minerals, it's durable and super-hygienic because it's non-porous, but pricey. Pros: durable, heat-proof, surfaces can be sanded and resealed as required, hygienic, sleek finishing Cons: pricey.
5) Durat - Stylish material made from recycled plastic that's similar to Corian. Easy to clean, resistant to chemicals and, like Corian, if it gets scratched, it can be renewed by sanding. Ready-made or bespoke, it comes in a range of rainbow colors. Pros: durable, heat-proof, surfaces can be sanded and resealed as required, hygienic, sleek finishing, good range of color, allows countertop customization. Cons: pricey.
6) Engineered Stone - Composed of quartz particles, popular brands include DuPont Zodiaq®, Cambria Quartz, and Silestone Pros: heat-proof, scratch-proof, easy maintenance looks permanent and substantial.
7) Glass - Sleek and cool, glass is a sophisticated choice of unique kitchen countertops. Pros: heat-proof, easy maintenance, looks sleek and contemporary. Cons: may chip at the edges, not scratch-proof.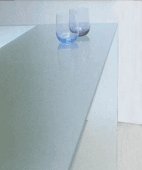 This kitchen is part of an open-plan design and uses translucent material for most of its hard surfaces. The kitchen island is wrapped in toughened etched glass, as is the narrow arching bar.


8) Granite - A choice that gives elegance and beauty to even the most modest kitchen. Periodic application of sealant prevents staining. Pros: heat-proof, beautiful colors available, looks permanent and substantial. Cons: requires periodic sealing, can crack, limited colors available.
9) Laminates - They're made of plastic-coated synthetics with pieces cut to size and finished on the ends. Some popular brands are Formica, Wilsonart, Nevamar. Pros: good choice of available color, easy maintenance, durable, inexpensive. Cons: scratches and chips are almost impossible to repair, end finishing and front edge choices can be pricey.
10) Marble - A luxurious material often used on kitchen island tops and/or baking center. Professional sealing will prevent staining and greatly reduce the porosity. Pros: heat-proof, water-proof, easily washed, supports chopping. Cons: porous, easily stained, not scratch-proof, requires professional sealing.
11) Soapstone - It is generally dark gray in color and has a smooth feel. Pros: rich, deep color, smooth feel, stain resistant. Cons: requires regular maintenance with applications of mineral oil, may crack and darken over time.
12) Stainless-steel - Stainless-steel has many qualities which make it a good choice for kitchen countertops. The main drawback is the noise but this can be overcome with proper insulation. Most stainless-steel counters are custom made. Top tip: wipe with baby oil to keep it smear-free. Pros: heat-proof, water-proof, tough, cleans easily Cons: requires noise insulation, possible denting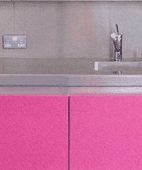 13) Wood - A popular material for kitchen countertops, it gives a warm look. Pros: cleans easily, smooth surface, surfaces can be sanded and resealed as required Cons: not heat-proof and water-proof, requires professional surface repair and resealing.
---

Explore the contemporary kitchen page for your guide on selecting kitchen cabinets, kitchen cabinet types, lighting tips and kitchen renovation guide
Click on highlighted text to return to the top of kitchen countertops.
---

Like to know more? Click on the following:



Living Room | Dining Room | Bedroom | Kitchen | Bathroom |



Space Organization | Home Lighting | Home Decor Fabric |