Orange Home Interior Inspiration
An orange home interior induces a feeling of warmth, sensuality, fun and most of all, creativity. It's sunny feel eliciting a positive reaction in any person who gazes upon it.
Color therapists say that those who surround themselves with orange feel cocooned and protected by the warmth of the shade, which in turn gives them the confidence.
Orange Decoration Tips
Resembling the orange sand of the desert, an orange flooring provides wonderful grounding for a room. A rug is probably the most contemporary use; wall-to-wall carpeting may be too much!
An orange feature wall provides energy to a room. A bathroom, for example is a great place to experiment with this color as it's a room where you can afford to instil a sense of energy and stimulation. A collection of orange mosaic tiles lining the walls is sure to achieve that.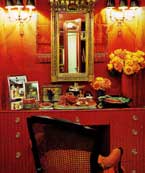 Touches of orange in the kitchen is guaranteed to keep your enthusiasm for food preparation alive. This may be added via tilework or as a highlight color in the accessories.
If having an orange home interior is too much to begin with, try orange as an accesosry outdoors. Contemporary plastic outdoor chairs such as those by Marc Newson, work well in this lively shade.
Keep the design simple and the patterns geometric, and you're sure to do this exciting color the justice it deserves.
Colors to Match with Orange
When working on your orange home interior, look at blending in reds and yellows in spicy shades.
Burnt orange is perfect with chocolate brown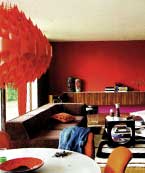 and shades of amber while peach, salmon and apricot shades of orange also work well together.
'Notice me' shades of green add some punch to an orange palette.
Which Room?
Orange goes into any room that could do with some energy. Besides the bathroom and kitchen mentioned above, consider also the lounge rooms.
---
You may also want to take a look at: