Working with Purple Home Interior - Practical Tips
Trick to having a purple home interior is to think about it tonally and to be sure of where it works best in your space.
While pure purple may be too intense for walls, soft lavender is an interesting alternative. It adds an element of color without being overwhelming.
Deeper tones of purple are ideal for accents. For example, pair bright purple with other complementary color such as blue, green and pink in your upholstery, or use it for a feature wall.
Play with more intense shades of grape and aubergine for a distinguished twist. So look carefully at your space before choosing a tone.
Purple Home Interior and Light
Rooms bathed in natural light work well with the brighter, bluer shades of purple such as indigo and jacaranda, uplifting the space and giving it energy.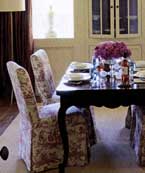 Darker rooms, which lend themsleves to an air of sophistication, benefit from the more complex shades of grape and plum.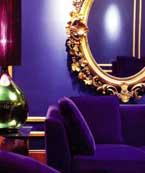 While a purple home interior may make your room darker, it's a color that goes with the room rather than against it. Deeper shades that contain more red may be the way to go for such rooms.
Which Room?
Kitchens tend to be an ideal place to employ purple - not just on the walls or window treatments, but also through accessories such as dinnerware and glassware.
Bathrooms work in the same way and of course, it's perfect for children's bedrooms, particularly if you want to be tread the fine line between the space being suitable for either a boy or girl.
You may also try painting your bedroom purple for a sense of opulence. Soft shades of purple is an alternative to pink in little girls' room or to blue in boys' room.
Decoration Tips with Purple
It's important to keep your purple current. When embarking on the purple road, you run the risk of your interior looking overly pompous or even worse, twee.
To avoid this, ensure that you pair your purple with streamlined shpaes in your furniture and a more modern aesthetic overall.
Upholstery is always a safe bet, as are cushions, throw rugs and the like where purple works as a highlight only. Sometimes, a few purple flowers in a vase is enough.
Take the lead from mother nature and keep it as a speciality color rather than the focus. This will ensure that your interior stays relevant and relaxed.
Purple Works With....
Muted shades of purle such as plum and aubergine combine beautifully wth soft, muffled tones of green. Pure purples combine with upbeat shades of blue such as cobalt, or you can keep it tonal by using lighter and darker shades of purple.
---
You may also want to take a look at:
Wall decor with paint
Click on text to return to the top of purple home interior
---

Like to know more? Click on the following:



Living Room | Dining Room | Bedroom | Kitchen | Bathroom |



Space Organization | Home Lighting | Home Decor Fabric |