Upholstery Basics
Upholstery refers to the covering of furniture frames with padding, springs, webbing and covers (e.g. in fabric or leather), and is typically part of chairs, seats, couches, sofas and cushions. See below for more details.
---
Fabrics
A multitude of fabrics and materials are used today, including velvet, chenille, wool, moquette, damask, silk and linen. Style, patterns and prices vary greatly, with some designs akins to those found on contemporary art canvases, and others more conventional, taking the form of stripes or prints.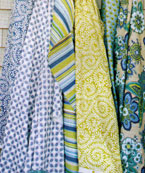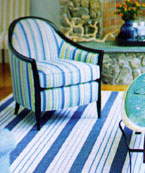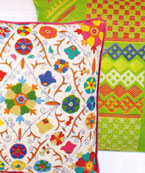 ---
Selection Tips
When selecting fabrics for sofas and chairs, look out for:
Thicker, hardier materials – durability is the key factor for heavily used furnishing. It's recommended that you select tightly-woven fabrics and blends, as opposed to light or loose-weave nature fiber like satin, silk, brocade and damask. This is because fine natural fibers will tear when pressure is applied. One way to get around that: a knit backing to the silk to make it stronger. Consider also synthetics since they last longer, retain colors better and easy to clean. Comparatively, natural fabrics like silk and linen are more fragile. Consider also rayon chenille since it is soft, yet resilient. Rayon chenille works well in contemporary settings as well as antique-filled, classical home decor.

Leather - besides the fabrics mentioned above, leather tends to be a popular choice on account of the ease to maintain (you just need a damp cloth with some leather moisturizer), good quality leather is also long-lasting, developing a lovely lustre over time and does not usually tear.

Abrasion - Quality fabrics have tags showing a rating for rub tests. A figure of 60,000 means the fabric is good for high traffic butt rests, such as restaurant chairs. A rib test pf 20,000 to 30,000 works for light upholstery (ie dining chairs at home and headboards), while 30,000 to 40,000 is good for home sofas.
---
Upholstery vs Home Decor
In terms of coordinating your overall interior design, upholstered items can dictate your color scheme. Whether it's classical or contemporary, upholstered furniture provides a focal point.
For example, deep-colored fabrics paired with classic furniture designs such as Chippendale, Queen Anne – cater to a more traditional sensibility. Natural fabrics or country-style floral patterns create a warm and charming ambience, while contemporary fabrics make rooms feel sleek and spacious.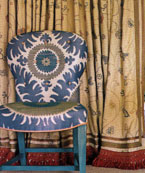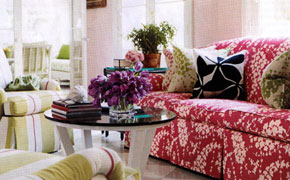 Upholstery can be used to manage the visual flow and ambience of a space. Furniture with skirting that reaches the floor appears to take up more space, while pieces with loose covers give a relaxed vibe.
A large pattern on an upholstered sofa, for instance, can make it a focal point and conversation piece. Thus, it's advised to downplay the other furnishing in the same room. Also, using the color and pattern of the upholstery fabric to complement the wall color and interior style can infuse your home with cohesiveness.
---
What's in Fashion?
Current trends in upholstered furniture include the use of color, finishes and materials that contrast with one another. For example, a luscious plush material or silk paired with an unpolished wood finish creates a surreal appearance. For the covers, single color paired with patterns like stripes have strong appeal with consumers. Mixing materials like fabrics with leather, or textured fabrics like wool and linen, is also popular.
In light of the green movement, innovative materials such as bamboo fiber or fabrics made from crushed green tea leaves are gaining momentum. Organic and sustainable materials appear to be the future of upholstery. This is in view of the recent use of natural materials such as wool, cotton and linen in natural, non-pigmented form as part of an environmentally-conscious approach to furniture
---
Testing Upholstered Furniture
When buying upholstered furniture, always test it. Sit on the item and listen for signs like creaking or bumping noises, which may be indicative of bad springs striking the frame. Lift the item and give it a gentle shake too – a solid, heavy feel is a good sign of quality. Legs that are part of the frame and frames made of kiln-dried hardwood are strong indicators of fine quality as well.
Other positive signs are double-dowelled joints fitted with corner blocks, glued and screwed into place; an eight-way, hand-tied spring system; and a deck under the seat with interwoven straps secured to springs linked to the frame. In terms of padding, ideal materials include foam, polyester, feather and down. The latter two are preferable when comfort is the prime consideration, while the former are easier to maintain, and don't need to be fluffed to keep the shape. If you're allergic to feather and down, but would still like natural upholstery fillings, opt for items containing durable buckwheat hulls.
---
Putting Them Together
With unusual choice of fabrics, you can create stand-out furniture pieces which adds character to your home decor. So how do you mix it with your current pieces?
WIth increasingly contemporary takes on classical designs, designers are showing an appreciation for unique combinations of elements in any one piece. One effective way of creatively customising furniture is to contrast the form of a chair or sofa with the fabric style.
For instance, pairing a classic Louis XVI chair with zebra-print fabric or one in bold hues like pink gives a novel twist. Conversely, embossed velvets with a gilt chair or a contemporary chaise with classic damask adds instant chic. Or, you may pair batik prints with modern sofa designs for distinctive Asian-inspired pieces.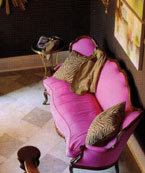 Playing with the form and style of your upholstered furniture can result in lots of fresh and suprising combinations which can act as the bold centerpiece which pulls your living room together, or a quirky standout piece in contrast to the reigning sytle of the setting. Customising your furniture with upholstery can inject that daring personal statement into your home decor.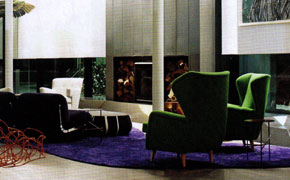 ---
Upholstery Maintenance
Here're some upholstery care and maintenance tips so your furniture remains in tip-top condition for a long time:
Update – rather than toss each piece out when it gets damaged or out of fashion, a few small updates can save you money and reduce waste. Furniture that has seen better days can be updated by a competent upholsterer, while patterns and types of upholstery can be changed.

Flip – Flipping parts of the furniture like seat and back cushions often evens out the deterioration and minimize inevitable wear and tear on furniture.

Vacuum – Do this frequently to remove dust and minute food remnants that hide in various nook and crannies. Also, it's good to keep pets off the furniture since their natural oil secretions may be difficult to remove.

Act Fast – The moment domestic accident happens on the fabric, hurry to clean stains in order to prevent them from setting. Take care to blot rathe rthan scrub the spots, which may cause damage and spread the stains. Always follow the cleaning instructions for your particular item of furniture
---
Click here to return to the top of upholstery

Like to know more? Click on the following:



Living Room | Dining Room | Bedroom | Kitchen | Bathroom |



Space Organization | Home Lighting | Home Decor Fabric |