Living Room Furniture Selection
When choosing living room furniture in general, scale is important. Take note of the space as small furniture can be swallowed up by huge spaces while larger ones can look uneasily marooned.
If your heart's desire is a large sofa, go for something really big. Dare to choose extra-large and I'd also recommend modular furniture for different possible arrangements. The rule of thumb is that large sofas require no neighboring chairs.
For most of us, a new sofa is one of the largest and most important furniture purchases we'll make. Here's a page dedicated to sofa selection tips.
Alternatively, you may want to work with a few armchairs instead of a sofa as shown below left. The picture on the right is a good example of an open-plan living area with more than one seating space. Notice the smaller reading corner partially hidden on top of the picture?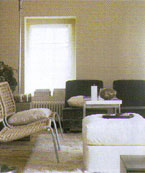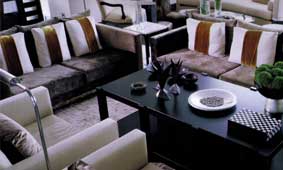 Living Room Furniture - Tables
Living rooms need side tables, since in repose, we generally have something in hand – book, newspaper or drink. The picture below left shows an antique Chinese side table with contemporary western furniture - a unique marriage of period and culture. While the solid wood round side table shown bottom right doubles up as a conversation piece with it's sculptural legs.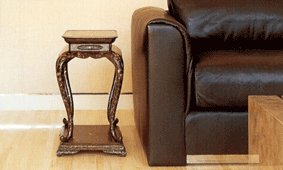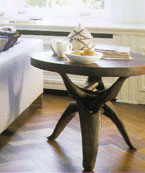 Another playful conversation piece below which injects humor and modernity into the living room's sombre decor.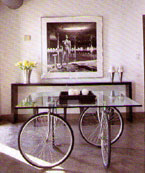 Well designed table tops can also become a decorative element especially when viewed from a higher elevation such as a mezzanine.
Coffee Table Alternatives
Upholstered footstools are rarely used for feet now, but they are discreet and good for sitting on as a last resort. A unique solution is to use large square ottoman which functions as a coffee table. It acts as a reassuring barrier between strangers; in cube form, it also straightens the look of a room, lending harmony and serenity.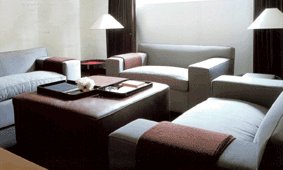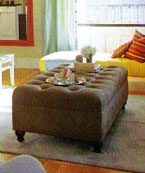 The picture below shows petrified tree stumps used as an alternative to the coffee table. Note also this allows an uninterrupted view of the fireplace.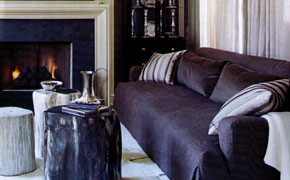 Living Room Furniture Arrangement
Other than picking out comfortable living room furniture, sufficient seating is also important. For the latter, I'd suggest having chairs placed around the room perimeter if there is enough space. Alternatively, there's the chaise lounge; although intended for one person, it can accommodate more.

A good system in living room furniture arrangement, is to have a pair of living room sofas back to back (better if they are different but with similar proportions), with pairs of chairs opposite each sofa. Not only can the symmetry add to the room's neatness, the arrangement makes for entertaining, allowing guests to move from one group to another.

Seating arrangements can form cozy islands, and many designers create two or more such areas in one room, if it is large enough, rather than a single seating plan. Underfoot, you can use rugs to make little oases of seating areas without breaking the sense of space.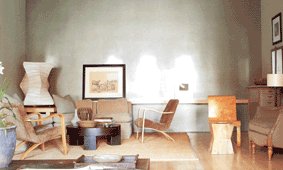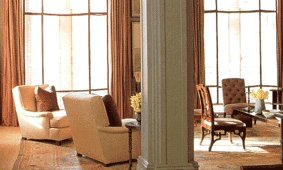 A point to note in the living room decorating guide is that it is better not to place sofas and armchairs right against a wall; even if it means more space in the centre, it will make the room seem less spacious. A sofa or armchair, particularly if plump or wide, needs room to breathe, spatially speaking.

If the fireplace is the focal point in the living room, a unique idea is to create a look-though fireplace to compartmentalize a room, and provide relatively cozy comfort in a large space.

However, with under floor heating and under-window radiator cylinders, the fireplace no longer governs the living space in some homes. In such instances, let daylight guide your placement of the living room furniture. You might want to position sofas and chairs to take best advantage of natural light and the view. If you'd like to include the television, you can still have it near the window, as long as you devise some way of shielding the screen or dimming the incoming light for good viewing.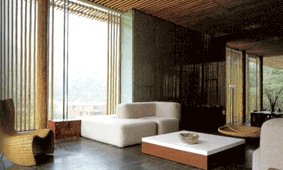 Please click on the higlighted text for living room lighting tips.


Living Room Furnishing Tips for Eclectic Home Decor
For those of you drawn to an eclectic mix of contemporary and period pieces, the important thing is to balance the various styles correctly so you don't get a culture clash.
If you're aiming for a light, contemporary feel, then edit your antique pieces ruthlessly. Many are too heavily decorated, dark or bulky to fit well into a modern scheme.
Having the main pieces of living room furniture, such as the sofa and dining table, in neutral color and clean shapes helps.
From experience, placing antique pieces in secluded, open areas allow it to be appreciated. If it has to be right by some modern pieces where it looks odd, consider re-colouring it. Painting an ornate cabinet cream will lift the mood. If it is too valuable to retouch, consider selling it. Limit yourself to two or three large antique pieces in each room, though you can have small ornamental accents scattered around.
As a general guide, the more ornamental your antiques, the more restrained your color palette and furniture. Stick to strong solid colors and texture in your soft furnishing and sofas.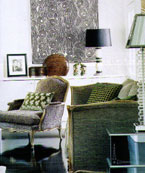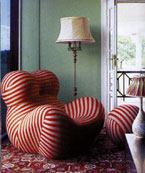 The two examples above illustrate a sophisticated mix of old and new; the room on the left includes a potpourri of contemporary Aboriginal art, zebra print, mirrored tables and sculptural lamps. The right picture shows a contemporary chair matched with 17th century lamp and colorful tribal carpet.
The thing to remember is that this is not a show flat but your home, so feel free to put any art or furniture you fancy into the mix. If there are contrasting décor styles, mix furniture in clean shapes with an unusual centerpiece to balance the look.
---
You may also want to take a look at:
Click on highlighted text to return to the top of living room furniture


---


Like to know more? Click on the following:



Living Room | Dining Room | Bedroom | Kitchen | Bathroom |



Space Organization | Home Lighting | Home Decor Fabric |