Designer's Tips on Wall Decor with Stripes
When working on wall decor with stripes, broad stripes can make a room's ceiling appear lower while narrow vertical stripes are elongating. Vertical stripes of varying widths and color are good for harmonizing proportions. For example, vertical stripes in a low-ceilinged room guide the eyes upward, creating an illusion of height.
Horizontal designs seem to 'push out' walls, making space appear bigger.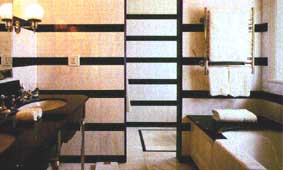 One example of wall decor with stripes is to paint it floor to ceiling, across the ceiling and down the opposite wall, giving the effect of a spacious arched cocoon. This same idea can also be applied with wallpaper.
Another example is illustrated below.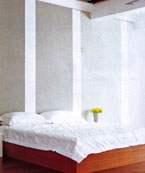 The stripes are painted very broad, in monotone shades, with the color very cleverly arranged from lightest to darkest across the room. This dramatize the light streaming from the window, yet creates a beautiful serene space for rest.
If you tire of the regular striped look, splash out with an Opt Art approach by painting your wall in colored stripes, mixed in with black and white for light relief.
Instead of the regular horizontal or vertical stripes, try painting them at an angle. To achieve this, try planning the color first on paper using color pencils or crayons, number each color and match them to the ones in the paint range. Next step, buy lots of masking tapes and hire a painter who loves painting stripes!

The only word of caution is to balance scale and color since colorful stripes can be very energising.
In the kitchen below, the bar-like divider is lined with corrugated metal. Although the splashback is also of corrugated metal, the lines run horizontally, echoing the Venetian blind, which helps increase the sense of space and give the kitchen its own identity.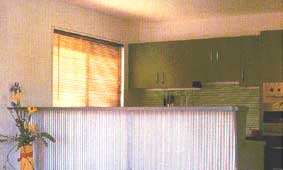 Click on highlighted to return to the top of wall decor with stripes.

---
Like to know more? Click on the following:



Living Room | Dining Room | Bedroom | Kitchen | Bathroom |



Space Organization | Home Lighting | Home Decor Fabric |